Christmas in Armenia is an amazing sight, especially in the capital city Yerevan. The city goes all out for the Christmas but before moving on that, let's point out some differences between celebrating Christmas in Armenia and other countries. First, Armenians don't celebrate Christmas on December 25, like in other countries, they celebrate Christmas on January 5. Second, they start the feast when other countries mark the end of the holiday season. Now let's move on why you should celebrate Christmas in Armenia.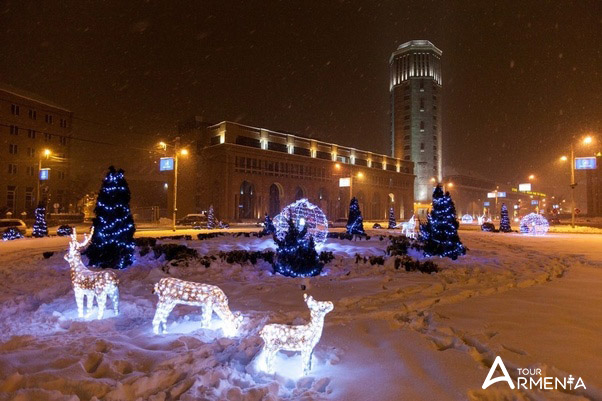 Christmas in Armenia: It's Beginning to look a lot like Christmas
Armenia is just perfect for celebrating the Christmas season. It's is a very special place to visit this time of a year. Yerevan's amazing decorations are just a wonderful sight to see. If you are a night person and you like to stay up late then we highly recommend you to stop in Yerevan.
Armenians celebrate Christmas with great enthusiasm and lots of preparations and decorations.  They start preparations in the middle of December with great passion. They love decorating the trees, yards and houses in magical colorful lights. The most amazingly decorated places in Yerevan are Republic Square, Cascade, Opera and Northern Avenue. The biggest Christmas tree is erected in the middle of Republic Square.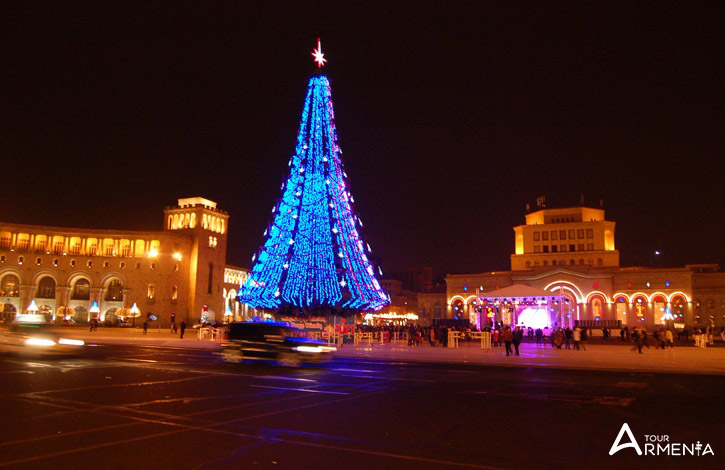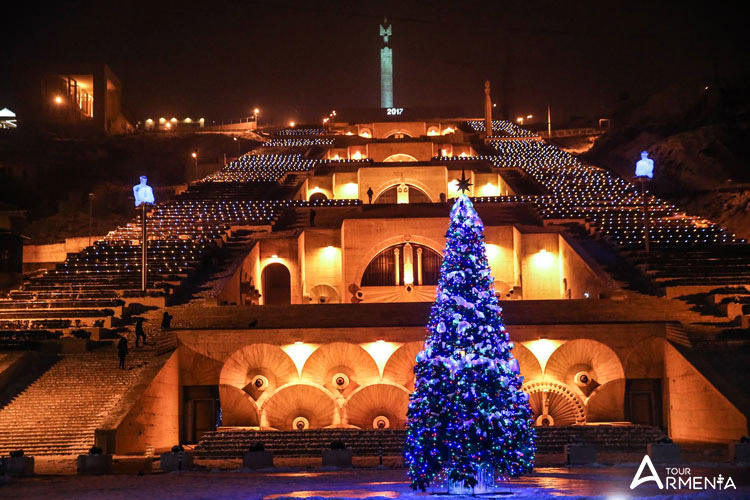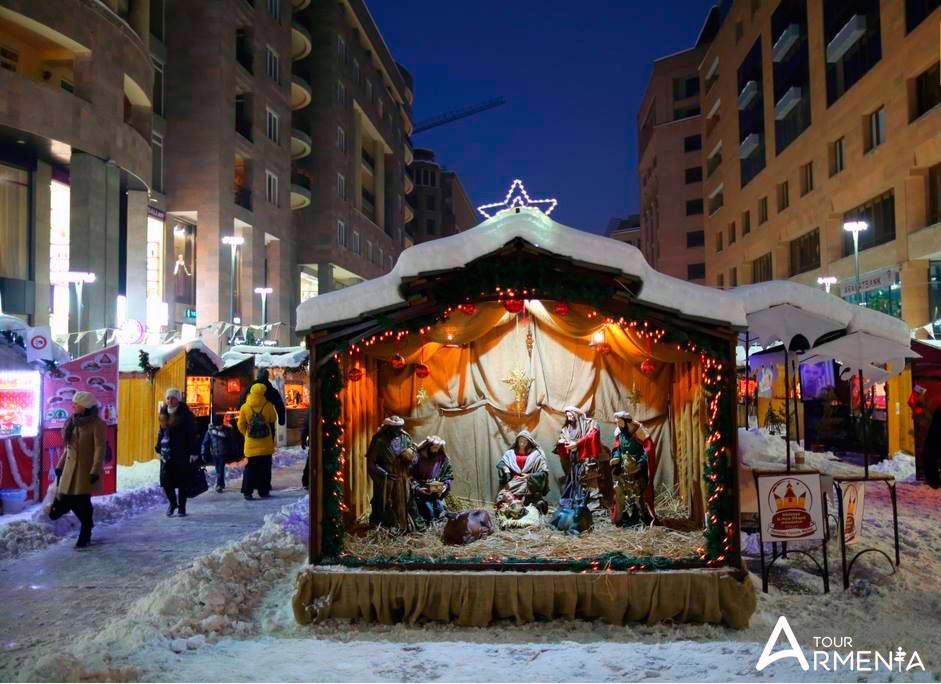 On Christmas Eve Armenians light their homes and churches with so many candles to illuminate the end of dark days.
Armenians believe in forgiveness and they say that everyone should forgive one another before Christmas. So if you are hurted by someone or you have hurt somebody you need to apologize before Christmas. That is the time you need to love and be loved.
There is also a tradition of giving gifts like sweets, chocolates, greeting cards, decorative things to the family members, friends, relatives and loved ones. Don't miss the chance to buy the most amazing handmade Christmas gifts while walking through the city streets. There are so many pop-up markets in different neighborhoods selling sweets, gifts, handmade chocolate and etc.
What else will you find in the city? Markets full of crafts and local food and drink specials, and even medieval architecture perfectly complemented by the holiday lights. It's Christmas, you need to buy a lot of gifts, right? Then enjoy your festive shopping at local malls like Yerevan mall. Many festive events and of course many surprises are waiting for you there. It will make your Christmas unforgettable.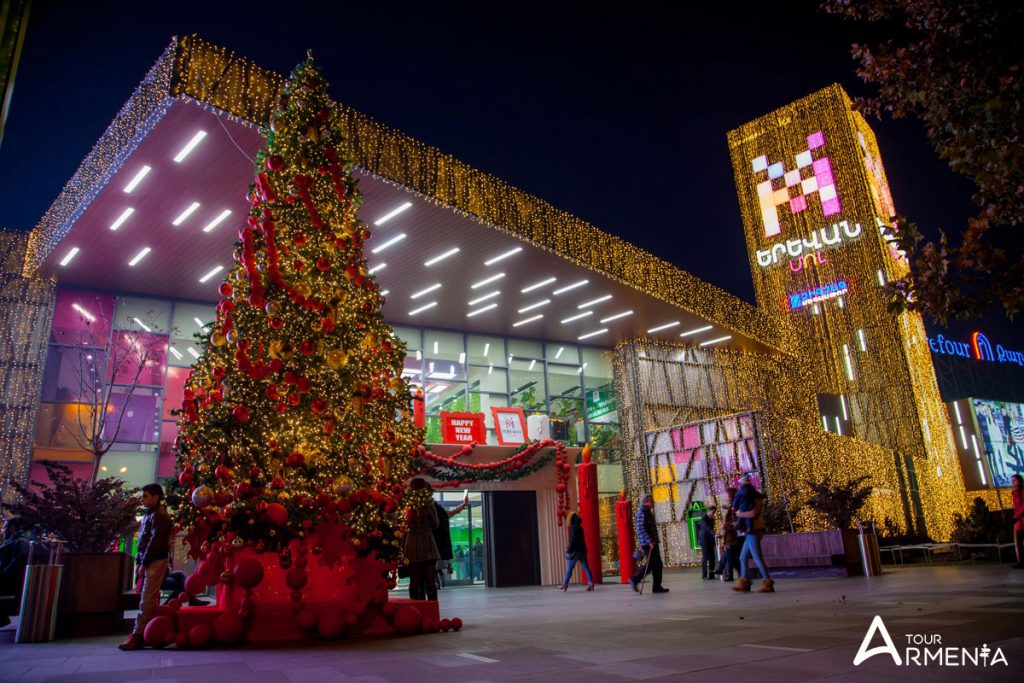 Christmas in Armenia: It's high time to celebrate
In Armenia New Year's Eve lasts almost 2 weeks from December 31 to January 13. During the holiday Armenians visit family and friends, exchange gifts, and come together to drink and celebrate. Just before midnight on New Year's Eve families gather around the dining table and after kisses, congratulations and toasts, the fun begins. Armenian people are famous for their hospitality, they like to admit that the Christmas table should be so covered with food that you cannot even put your hand down. They think that everyone should eat a bit of everything. A special sweet bread called "New Year's bread," is an important part of the dinner too. They bake the cake with a coin inside and believe that the person, who finds the coin, will enjoy good fortune in the coming year.
You should know that if you're invited and even if you're not, you're always welcome into Armenian homes on these days. They like to share Christmas with everyone!
Have yourself a merry little Christmas!